Keep the Heat On
The Water is in the Pot
A few months into George's executive coaching, we had a joint meeting with his boss for a midpoint check-in. Len had provided input at the beginning of the program, to help George select leadership development goals. They both agreed that focusing on a few critical areas would improve the department's productivity and raise customer service standards. Now our question to Len was: Is anything noticeable to you yet?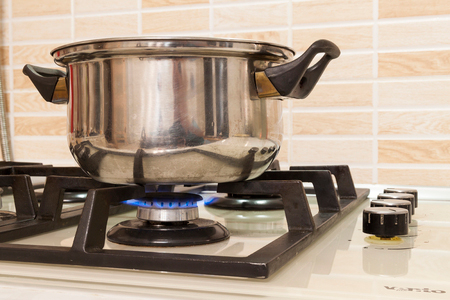 Len said he could sense that George was putting forth a sincere effort and implementing changes. Having observed signs of progress as well as potential hindrances, Len summed it up by saying: "The water is in the pot but it hasn't come to a boil yet."

He understood that working on goals is a process. His message was one of encouragement to keep going. Len also made a request of George: "Make sure you are identifying concrete measures to know whether you're succeeding."
Simmer Down or Full Boil?
You can apply this executive coaching anecdote to your life, both professionally and personally. Even if you're not a formal goal-setter, it helps to have periodic check-ins with yourself to consider how things are going with the areas you're focusing on at any given time.

Especially if in a period of change or implementing new habits, the check-in is that critical juncture when you get to "glance at the pot" and see what's needed to bring it to a full boil:
Give yourself credit for the incremental progress you've made. Your cynical self may try to convince you that nothing has changed but remember not all progress is immediately evident.


Be honest with yourself about where you are stuck or what you might need to do differently.
Whether with yourself, your boss, your staff, peers, or family, the quarterly check-in is your opportunity to narrow the target. This is a decision point where you can either return to old ways (simmer down) or build on the new momentum you've created and take it all the way to full boil.
What's Needed Now
I once told Len that I've used his Water is in the Pot metaphor and that while some may think of tea, in my mind the water is for pasta. His email reply confirmed: Pasta, definitely pasta.
This Week's Call To Action:
Glance at the pot: Consider where you have spent your energy and applied your efforts so far this year. What do you notice both externally and internally? What are others noticing? Where can you build on the progress you've made?


Keep the heat on. What are concrete measures you can put in place to let you know you're succeeding? Remind yourself of and commit to the habits, actions, and mindset that will help you take it all the way.
You'll know when it's time to throw the pasta in.
See you in the current,


Notes:
(1) Names changed for privacy.
(2) See Also: Your Next Performance Review and Regroup, Refocus & Recharge.