Change of Season
Sandi's Encounter
Hello! I'm happy to be writing to you, having just returned from a very special family vacation in Florida. The purpose of the trip was to fulfill two items on my mother-in-law's bucket list: a visit to Key West and a swim with the dolphins.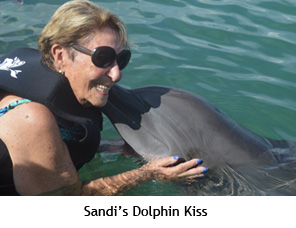 It was heartwarming to see the women in Sandi's group help her down the ladder into the lagoon and back up again. They commented that seeing how much she was enjoying herself (at age 84) made the experience more meaningful for them. Jess and I snapped photos from the observation deck and watched with delight as the husbands of the women in Sandi's group became invested and formed a cheering section: Look at Sandi! Go, Sandi! I just got a great shot of her with the dolphin!

Later Sandi asked me, "Why don't people think someone older would participate in this activity?" Saying it surpassed her expectations, Sandi described the encounter with the dolphins as both a spiritual and healing experience. "I don't know why but this is something I needed to do."

After the dolphin excursion on Duck Key1 (on the way down to Key West), we had one more surprise in store for her when our guys (her grandsons) and their gals arrived the next day to join us for vacation. As I stated in a prior issue about Sandi's ride in a hot air balloon, it's wonderful to share in someone else's bucket list.
Summer Rounds the Corner
With the arrival of September, I'm looking forward to participating in what my clients are working on and to attending a coaching conference in town later this month. On the docket for personal projects: the closing out of my parents' estate and the completion of several remodeling projects around the house. Both of these translate to big time clearing out and reorganizing. To me this feels right and in the rhythm of transformation initiated by my mother's passing six months ago. I've been referring to this as "my soil being turned over" -- a time for letting go of some things, continuing and expanding others, creating anew.
How Will the New Season Move You?
Today's message is mostly to let you know what I've been up to this summer. As always, feel free to reply and share what's going on with you. Next time, I'll have the second installation in the series I kicked off here about listening to your life.

And actually, today's update is in sync with the topic of Listening. For as much as I have my short and mighty list of things to move forward, I'm also curious about how and where the new season will move me.
This Week's Call To Action: Listen to how your life is speaking to you.
What is your spirit moving you to do? As Sandi described, is there something calling you deeply, something that you both need and want to do?


What does the change of season stir up for you?
See you in the current,



Notes:
1Hawks Cay Resort on Duck Key offers the Dolphin Connection program which focuses on marine mammal education, breeding, and conservation. Dolphins are cared for in their natural environment.