The Presence of Joy
Put Your Soul Into It
Earlier this year a new caregiver couple moved into my mother's group home. Prior to their retiring, the former caregivers tended to my mother for three years with great love and kindness. This changeover could have been a time of apprehension but I was reassured by an interaction that first week. While setting the table and about to serve that evening's dinner, Delia remarked: "I hope they like it. I put my soul into it."

That told me everything about Delia: that she takes pride in her work and carries out her tasks mindfully. Caregiving comes with its portion of taxing days, yet Delia often shares what brings her joy in this job. She'll say: "Your mother greeted me with such a smile this morning when I went into her room to wake her up for breakfast. She was happy to see me. It made my day."

Comments such as these reveal Delia's openness to experiencing joy – that which is hidden in an ordinary day and is ours to discover.

Open to Finding It

As they work to create a better life for their family, Delia and her husband Rony endure the sacrifice of being temporarily separated from their loved ones in Romania. As they have shown, however, joy can be derived from whatever work you find yourself doing on a given day or during a certain period of your life. Life does not have to be perfect or without hardship to have joy.

Whatever the circumstance, joy is always possible, available, and able to be experienced. And your soul always knows the way to find it.

Joy is Here
I imagine Joy as residing within each day waiting for us to notice it. At times loud and celebratory, joy is often a silent treasuring. Still present alongside difficulty and sorrow, joy coexists with all that is unsettled in our hearts or needs healing in the world.

Often found in an exchange of giving and receiving, joy is a beautiful presence that is pure and universal. It is a sense of delight and gratitude that we can invite into our lives at any moment.

During these next few weeks, my joy is to be at my mother's side, witnessing her final days. Being her Guardian as she has traveled the journey through Alzheimer's has taught me a great deal about living In the Current. The heartbreak of this disease has only clarified the opportunities for Power and Grace to flow and for Joy to reveal itself.

I wish you and your families much joy this holiday season and look forward to connecting with you early in the New Year.


Your soul knows where the joy is.
Joy is available right this minute. Joy is here.

See you in the current,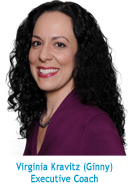 Current of Life is a free ezine for accomplished professionals who want to move forward with clarity and confidence in their careers and lives. Each issue provides practical guidance and inspiration to navigate the important decisions of your life. Look for Current of Life in your inbox every other Tuesday. You'll also have exclusive access to subscriber-only opportunities such as teleclasses, call-in days, program previews, and Current Conversations, a quarterly community call for subscribers.
Learn more about my unique approach which incorporates the Five Stages of Living in the Current.
Visit: inthecurrent.com
© 2015, Virginia M. Kravitz and In the Current®. All Rights Reserved.
You are welcome to reproduce this article provided it is without any alteration,
includes the copyright line above, and a link to www.inthecurrent.com, if distributing electronically.