Regroup, Refocus & Recharge
Time to Regroup
During a recent conversation with my Connecticut mastermind group1, one of my coach friends described having several potential opportunities in play. Investing her time and energy in multiple directions was making her feel scattered and unfocused. By the end of the conversation she concluded: I need to take a breather right now and get grounded and back in balance. In hearing herself say these words, she knew what she needed to do. That's the value of tapping into your inner circle – people who will listen, hear what you're saying, and give honest and helpful feedback.


The year takes off and produces its own momentum. I find that that each change of season beckons me to Regroup, Refocus & Recharge.
In Three Steps
Regrouping doesn't have to take that long. I conducted my Quarterly Check-In last Monday in about two and a half hours by doing the following:

1. What are you talking about? Take note of what you've been hearing yourself say to your coworkers, friends, family, or other advisers. What are you excited about, complaining about, or frequently bringing up? What have they mirrored to you or suggested?

2. Revisit your intention for the year. What felt important at the start of the year? What has occurred so far, what new information do you have, and how does this change the picture? What themes are still relevant and resonating deeply with you?

3. Select Your Current Focus. With the insight and perspective gained from checking in with yourself on #1 and #2, now select your focus for the current season. What are the projects and activities you most want to move forward and spend time on? What can you let go of or lighten up on for now?
Focused, Flexible and Connected
We are constantly deciding what to focus on first and how to deal with all the things that vie for our attention. Selecting your focus while remaining flexible and open to opportunities is an important muscle to build. It renews your clarity of purpose and refreshes your spirit. After all, the stuff you're working on is just stuff unless you connect to your deeper motivation.

This Week's Call To Action: Step back to renew, adjust, and select your commitments for the current season.
Carve out 90 minutes or so to conduct your Spring Check-In.

While you're at it, mark your calendar now for check-ins in early July and early October.
When you step back to:
Regroup, Refocus and Recharge,
You will come back feeling:
Focused, Flexible & Connected.
See you in the current,


Notes:
¹My Connecticut Mastermind of coach colleagues - Jill Berquist, Pam Butterfield and Jackie Johnson - originated over 10 years ago. We continue to meet monthly via conference call and in person when I'm back east. My Arizona Mastermind happens to be a group of four also (myself included): Debbie Exner, Sylva Leduc and Karen Ramsey. Last year we presented to our ICF Phoenix chapter on the value of having a mastermind group. I can't imagine where I'd be without the feedback, perspective, and support of my peeps!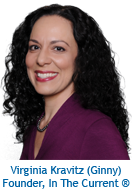 Current of Life is a free ezine for accomplished professionals who want to move forward with clarity and confidence in their careers and lives. Each issue provides practical guidance and inspiration to navigate the important decisions of your life. Look for Current of Life in your inbox every other Tuesday. You'll also have exclusive access to subscriber-only opportunities such as teleclasses, call-in days, program previews, and Current Conversations, a quarterly community call for subscribers.
Learn more about my unique approach which incorporates the Five Stages of Living in the Current.
Visit: inthecurrent.com
© 2015, Virginia M. Kravitz and In the Current®. All Rights Reserved.
You are welcome to reproduce this article provided it is without any alteration,
includes the copyright line above, and a link to www.inthecurrent.com, if distributing electronically.